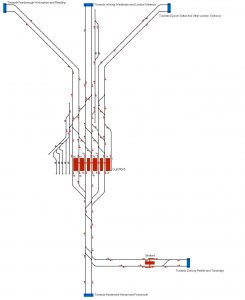 This project is a real life, working section of rail around the Guildford area. This includes a small station called Shalford which is also under your control when operating. The timetable is fully real with all correct platforms etc.. but so far I have only managed to complete the first 2 hours of timetabling (0600 – 0800). Expect a full 0600 – 2000 timetable around Christmas time this year but don't hold me to that…
I chose Guildford as it is one of the key destinations and interchanges in Southern England on the National Rail Network. The station has 8 platforms and 6 individual pieces of track going through it with another piece and buffers for terminating trains. is at one of three main railway junctions on the Portsmouth Direct Line and serves the town of Guildford in Surrey, England. It provides an interchange station for two other railway lines: the North Downs Line northwards towards Reading, which has a connection to Aldershot; the same line eastwards to Redhill and Gatwick Airport; and the New Guildford Line, the alternative route to Waterloo, via Cobham or Epsom. Guildford station is the larger, more frequently and more diversely served of the two stations in Guildford town centre, the other being London Road on the New Guildford Line (not included).
I really hope you enjoy the project and please make sure you check out my document named MUST READ.txt to find out specifics of the timetable and operating this specific layout etc.
Download "Guildford v1" Guildford-v1.zip – Downloaded 374 times – 189 KB