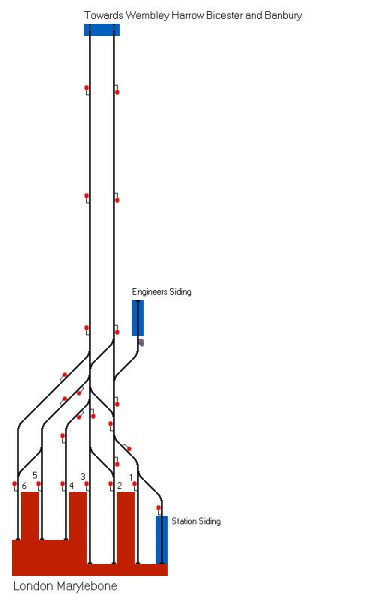 Firstly, you hopefully will be able to see that my railway and timetable are attached. It is a real life, working section of rail at the Terminus Station of London Marylebone.
The timetable is fully real with all correct platforms etc.. and I have completed a half day timetable from 05:45 – 12:00 (Noon) however I will not be completing the 2nd half of the day as this timetable is particularly repetitive after 11am.
London Marylebone is a small Central London Terminus and has a connected London Underground station, Marylebone (serving the Bakerloo line) in the Marylebone area of the City of Westminster. On the National Rail network it is also known as London Marylebone and is the southern terminus of the Chiltern Mainline to Birmingham. The accompanying underground line is located between Edgware Road and Baker Street in Transport for London's Fare Zone 1.
I chose London Marylebone as it is one of the smaller yet still relatively busy London Terminus'. The station has 6 buffer platforms and 1 additional siding adjacent to platform 1.
I really hope you enjoy the project and please make sure you check out my document named MUST READ MYB.txt to find out specifics of the timetable and operating this specific layout etc.
Download "London Marylebone" London-Marylebone.zip – Downloaded 367 times – 129 KB