The Pennsylvania Railroad – New York Division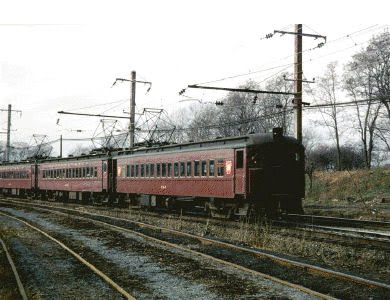 Thanks to Albert Ball's magnificent Railway program, I was able to recreate a crude facsimile of the PRR between New York and Trenton NJ. I want to emphasize this is a simplified version. I did not show the storage tracks at Penn Station New York because the Long Island RR operations from the east are not depicted here. The LIRR is a major player at Penn Station, therefore you should have plenty of capacity for the PRR operation without the confusion caused going to and from storage. Believe me, there is plenty to do without adding the LIRR. Similarly, many freight tracks are excluded since the timetable only shows through freight operations during the 5:00AM-10:00PM period (of course, most of the freight ran at night).
The SIM
Depicted is the New York Division, approximately 60 miles, from East (New York) to West (Trenton) – even though geographically North to South would be more accurate. Trains enter Penn Station from the coach yard at Sunnyside Queens (not shown) through the East River Tunnels and are staged to board passengers at Penn Station. Sunnyside was (and is) a massive coach yard where interiors are cleaned , and stocked, and consists created appropriate to the service. Trains inbound to Sunnyside from Penn Station travel via a double track loop which reverses their direction and passes them through exterior wash equipment at the same time. All trains between Penn Station and Sunnyside do not carry passengers (ECS in British parlance) therefore should be lower priority in your activities. Do not delay trains excessively however to miss their departure from Penn Station or take up needed space at Penn Station. (EXCEPTION: the 170 series trains operate to and from Boston and DO carry passengers east of Penn Station).
Trains are generally numbered as follows:
0-99  Long distance trains between New York, Pittsburgh, Chicago and St.Louis
100-199 New York-Washington and/or south trains via Washington to Florida and Louisiana.
200-299 New York-Philadelphia trains
600 series trains are Lehigh Valley Railroad trains which operate via trackage rights between Hunter and New York. PRR controlled LV at this time.
700 series trains operate between Union and New York in conjunction with the New York & Long Branch RR jointly owned by PRR and the Central Railroad of New Jersey.
3000-4000 series trains locals serving South Amboy (again via Union), New Brunswick, and Trenton. Note all trains are titled so you can determine their destinations. New Brunswick locals enter or leave the railroad just west of County Interlocking.
Train operations are based on the April 1959 Employee Timetable (known as the Working TT in the UK).
You should consider dropping the time to ½ actual after 6:30AM until 9:00AM since you are doing the work of ten or so tower operators and dispatchers.
A few operational notes:
This is a US railroad  Right Hand running on this territory and all others (with one national exception). Tracks 1 and 2 eastbound, 3 and 4 westbound.
Be sure to route locals along tracks 1 and 4 to ensure they stop at platforms.
The connection to South Amboy at Union is via a tunnel – route South Amboy, Rahway local, and Bay Head trains via the tunnel off the route.
Get ahead of the game as far as possible by routing through intercity trains through interlockings in advance but be cautious at County so the New Brunswick locals can access the #1 main. Also watch for through trains required to stop at New Brunswick or Princeton Junction.
Freights – all through freights between Waverly (near Lane Interlocking) and Trenton. One exception, NJ01 between Lane and South Amboy.
DO NOT delay #28-29, the All Pullman New York-Chicago BROADWAY LIMITED, and #152-153 the New York – Washington AFTERNOON CONGRESSIONAL full
of Wall Street bankers and politicians! (SNFTC "See no failure to comply" – unfortunately a lost art on today's railroads -J)
Shown below are photos of a typical MP54 equipped local followed by an ad depicting a GG-1 powered New York – Washington train. GG-1's also powered to long distance trains between New York and Harrisburg PA where the change was made from electric to diesel power.
The RAILROAD
The Pennsylvania Railroad styled itself as the "Standard Railroad of the World". By 1959, it was already in sharp decline due to a wide range of factors:
1. Antiquated labor agreements.
2. Passenger losses particularly heavy on suburban services which were the only part of the business growing at this point in time.
3. Government subsidized air, highway, and water competition.
4. Heavy taxation.
5. Regulated freight rates.
6. Industrial flight from the Northeast to the South.
The PRR would eventually merge with the New York Central in 1968 to form the  Penn Central which would file for bankruptcy in 1971. Unfortunately PRR's plea in the ad shown below was ignored. Resurrection would occur decades later in the form of Conrail and later Norfolk Southern but only after the government finally freed the railroads of passenger trains and rate regulation in the 1980's. Today this part of the railroad is owned and operated by Amtrak. The Lehigh Valley line shown at Hunter is the main east-west freight main operated by Norfolk Southern which also has trackage rights on the Amtrak line.
I hope you enjoy the railroad. It has been tested but mistakes may have seeped through – contact me at warren442001@yahoo.com if any questions or use the comments section below.
Download "Pennsylvania Railroad" PRRAuto.zip – Downloaded 1153 times – 465 KB