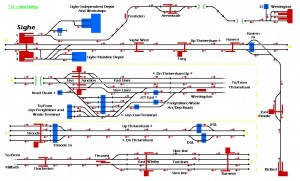 A fictional PSB Panel based in the UK Midlands. Quite a busy area for both freight and passenger workings.  The slow lines east of Jays Junction can be a pain when freight and passenger services are around.  Common sense needs to be applied in this area. Similar can be said for the slow and fast lines between Thraxed and Stroode Jn. It's up to you to make sure nothing gets delayed and that won't always be easy!
Built on version: Beta v0.4e.
(c) Simon Banham 2010.
A few tips:  It pays to have a chronological timetable printed out, and time can be saved by pre-setting automatic signal routes and saving as a session file.  Try not to set routes too far in advance of them being needed, because if you do other trains sometimes need to cross them before they are used.
Simon can be reached at:  simon.banham@hotmail.co.uk or use the comments section below.
Download "Sighe" Sighe_Railway.zip – Downloaded 934 times – 24 KB