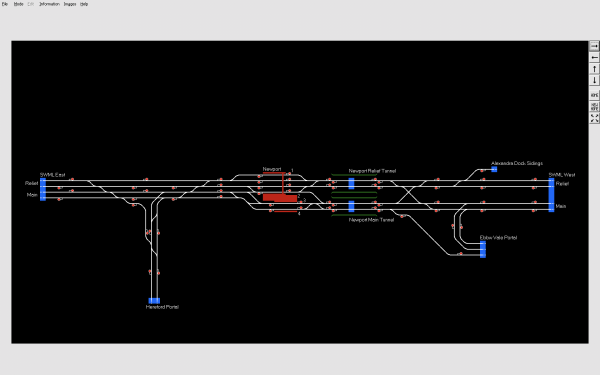 Newport is a 4 platform station on the South Wales Mainline between London and Swansea. It is a fairly major junction, with lines diverging to Hereford and Shrewsbury along the Marches line, and towards Ebbw Vale in the valleys.
It has plenty of passenger and freight traffic, with Great Western Railway services to London, Cardiff, Bristol, Taunton, and Portsmouth; Transport for Wales trains to Shrewsbury, Manchester, North Wales, Cheltenham, Cardiff, Swansea, and Milford Haven. Cross Country also run 1 train per hour between Cardiff and Nottingham via Birmingham.
The simulation only depicts the station area and surrounding junctions, just like the equivalent desk in the South Wales Control Centre. However, the sheer amount of trains will provide plenty of action for players. The simulation comes with three (yes, three!) timetables, so there is plenty for everyone. 1 is a fully realistic working day timetable with just shy of 400 trains in a 20 hour period. There is a simple, repeating timetable for those that don't want to jump straight in the deep end, as well as a fun scenario timetable where the station becomes a terminus thanks to weekend improvement works. Full details can be found in the readme, and I have also compiled an operations manual for those who are unfamiliar of the area.
This is my first public ROS simulation, so all comments welcome. My discord name is Tortoise, and I welcome comments/feedback/criticism.
Be sure to read the Operations Guide included with the download.
Enjoy!
Caspar
PS, there are 50 hours of timetables included, so I may have got one or two things wrong. If so please let me know so I can fix them!
Download "Newport" Newport-for-ROS.zip – Downloaded 88 times – 151 KB